2017 Evanston Cowboy Days Royalty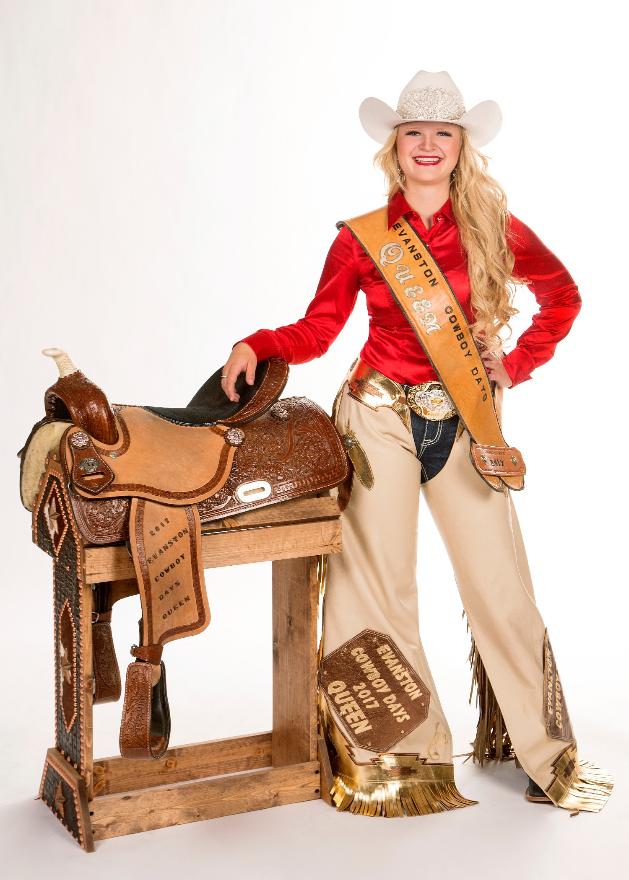 2017 Evanston Cowboy Days Queen ~ Falynn Mackey
Falynn Mackey is the 17 year old daughter of Payton and Marlene Mackey of Evanston. She is a senior at Evanston High School and Captain on the EHS Classic dance team. Falynn is looking forward to a future in Physical Therapy and sports medicine obtaining her degree from Dixie State University.
Falynn enjoys riding and competing with her horses, hunting, and dancing on the Classics dance team and her favorite; Country swing and line dancing. She loves spending time with friends and family whether it's camping, branding, moving cattle or bareback riding after a long ride. Falynn has a passion and love for all different kinds of animals and takes pride in showing them at Jackpots, County Fair and the Wyoming State fair. She is a member of the Uinta County 4-H, Uinta County FFA Chapter and the Utah High School Rodeo Association competing in Barrels, Poles, Goat Tying, Reined cow horse and in the fall adding Breakaway, and Team roping.
Falynn would like to thank the Evanston Cowboy Days committee and the community of Evanston for supporting her as your 2017-2018 Miss Evanston Cowboy Days Queen. Falynn has had the opportunity to share her love for the sport of rodeo and what it has done for her. Her favorite saying of "To know where you're going, you have to know where you came from"! Has applied to Falynn's everyday life especially the professional sport of rodeo.
Falynn is excited to be a part of the Labor Day celebration in Evanston and has enjoyed representing Cowboy days traveling to other rodeos and appearances across the state Wyoming and Utah. She has had the opportunity to share her western traditions and educate other of where rodeo originally got its roots. The "Ranch", this tradition is more than trophy buckles, and fancy saddles; it's a way of living. Whether it's to support the family in achieving that next pay check or clinging to your family roots, the sport of Rodeo is a western tradition that Falynn has been honored to share as your Miss Evanston Cowboy Days Queen.
1st Attendant ~ Bailee Mackey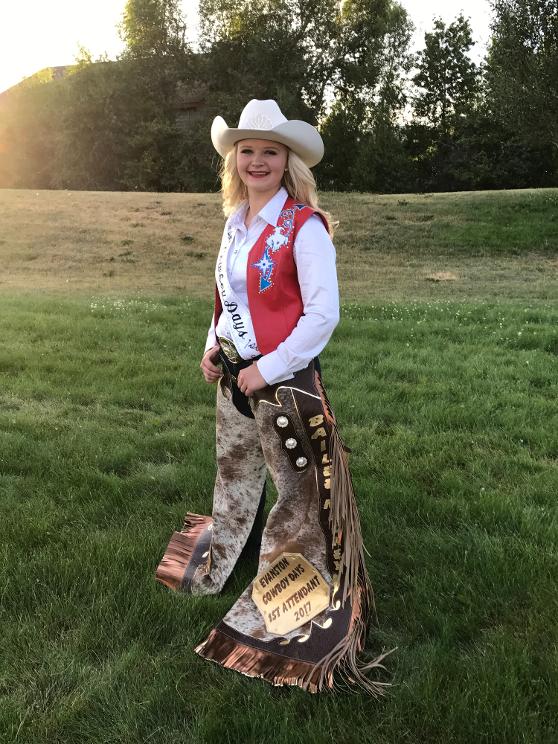 Bailee Mackey hails from Evanston, WY, where she grew up on Sulphur Creek Reservoir with a life full of family, friends, and animals. Bailee serves as Activity Coordinator for her local 4-H club and loves showing horses, swine and rabbits and is a proud showman at the Uinta County Fair. She is the 17 year old daughter of Payton and Marlene Mackey and attends Evanston High school. Bailee is a dance Captain on the High School Classic dance team and looks forward to competing for the 2018 State Championship title her senior year. She will be attending Utah State University in the fall of 2018 pursuing a degree in veterinarian science specializing in equine nutrition and chiropractic's.
Bailee enjoys riding horses on her family ranch, working cattle, expressing her feelings through dance, participating in the 4-H, FFA, & FCCLA programs. She has a passion for the sport of rodeo and competes in local junior rodeos, Barrel Jackpots, the Utah High school rodeo associate in Barrels, Poles and adding Reined Cow horse and Shooting sports in the fall for the Utah High School Rodeo Association.
Being crowned the 2017-2018 Miss Evanston Cowboy days Queen 1st Attendant has allowed Bailee to be to teach others about this great sport and be a positive role model for our youth to look up to. It's putting a smile on everyone's face and meeting people throughout our rodeo family that makes being a rodeo queen worthwhile. Bailee would like to thank everyone for this wonderful opportunity to serve the Evanston Community, Cowboy Days Rodeo and Committee, the sport of rodeo and her western heritage. Bailee hopes to continue to inspire others, and seek out opportunities throughout the rodeos she attends to encourage others to support all the hard work, diligence in caring for nature, animals along with honoring her ancestors and the western way of life. Happy Trails Until We Meet Again!