JUST IN: There will be dances following the Saturday and Sunday rodeo's with Brody Fitch!
Mutton Busting waiver is available under the Mutton Busting link above!
TICKETS ARE AVAILABLE AT THE GATE! $15.00 ADULTS, $10.00 KIDS 6-12, AND SENIORS 60+ ARE $10.00. 5 AND UNDER ARE FREE.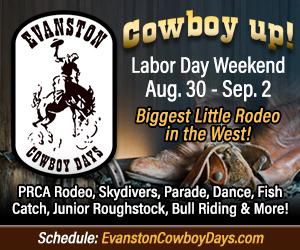 Evanston Cowboy Days
Located in Evanston, Wyoming.
Just over an hour from Salt Lake City, Utah.
Celebrating our 83rd Year this Labor Day Weekend.
August 30th thru September 2nd, 2019.
Mission Statement:
Evanston Cowboy Days is a nonprofit organization setup to promote the western way of life and to serve individuals and families in Uinta County and surrounding areas.
EVANSTON COWBOY DAYS, INC. P.O. 458 EVANSTON, WYOMING 82931
ANY QUESTIONS PLEASE CALL DUSTIN AT 307-679-8019