2019 Grand Marshall ~ Roy Lester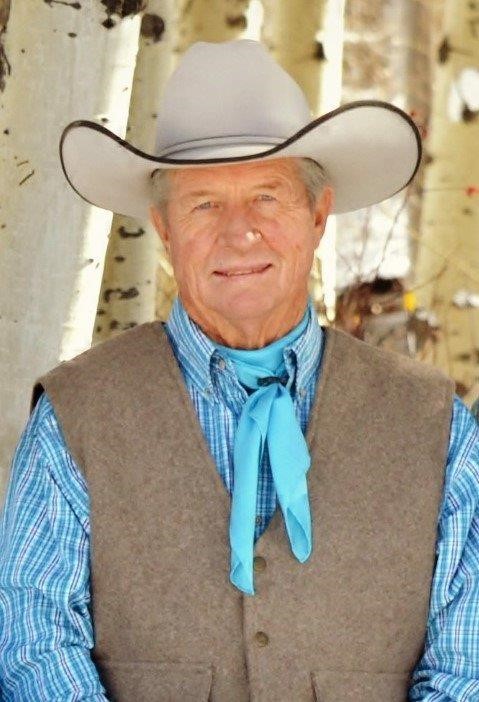 On March 2, 1943 a baby boy was born in Evanston, Wyoming and a Love for horses and horsepower began. The family ranch in Hilliard is where Roy Lester grew into a young man, all while training saddle horses and working draft horse teams with his father Bill. He remembers often being the first one to ride a young horse, and said it was best to be ponied along in five feet of snow because the landing was better. Roy always had a knack for training horses and enjoyed training them whether it involved ranch work or having fun. He started a lifelong passion for hunting in his youth and taught himself and his horses to pack gear and animals into the back-country. He missed a lot of school in those days while he was having fun and working; but attended just enough to graduate from Evanston High School.
Roy also had a love for a different kind of horsepower.This type of horsepower propelled 2,3,or 4 wheels; and most of the time the wheels were not all on the ground at the same time! Roy left the ranch for a time to go to the University of Wyoming and Weber State University, graduating with an Automotive Engineering degree. He married his sweetheart Nadene in college and after he graduated, they moved back to work the ranch and teach high school. Roy taught Auto Mechanics to high school students and adults in the community for 29 years. He also taught horse packing classes around the community and surrounding states. Always looking for a new adventure, he had several side hobbies and businesses along the way. Roy was involved in helping with 4-H, EHS Rodeo Club, and traveled around to area team ropings. He raised buffalo, beef cattle, sometimes pigs as well. Roy enjoyed agriculture and was active in improving community ditches and anything to help produce better hay crops. He built one of the first machines around that would stack hay mechanically and used it often to put up hay around Uinta and surrounding counties.
Roy was always looking for a new challenge in training his horses to do new things. He competed in team pennings, horse shows, endurance riding, and annual pony express re-enactments. After "retiring", he started a trucking business and a restaurant in his spare time! Roy enjoyed teaching his 5 children to ride and train horses; work on cars, and fabricate things.
From a young age, Roy enjoyed the Evanston Cowboy Days celebration. Roy's projects were often showcased in the annual Evanston Cowboy Days parade both motorized and on four legs. When his oldest daughter decided she wanted to try out for Cowboy Days Queen, he decided he better learn more about reining horses. He went to many clinics and competitions to learn a new aspect of horse training. He started to run a breeding and training program for reining horses. After Trudy become Queen in 1987, he became a member of Evanston Cowboy Days Committee; where he helped with new ideas such as freestyle reining competitions in the middle of the rodeo, special needs rodeos, and all-girl rodeos held on Labor Day weekend. He hauled horses, hay, goats and did whatever was needed to help the activities run smoothly over several years. In 1997 his youngest daughter Marlene became Evanston Cowboy Days Queen as well. As he helped his daughters continue to compete in reinings and rodeo queening; Roy became known for helping rodeo queens learn to ride better and training the horses they rode in competition. We tried to count how many Evanston Cowboy Days Queen and Miss Rodeo Wyoming winners he actually trained over the years, and there were too many to count.
Now it is the grandchildren that are competing and carrying on the legacy Roy started. We have Rodeo Queens and Princesses as well as college, high school, and junior high rodeo and other sport athletes. In addition, two granddaughters are currently showing reining horses in National and Intermountain Reining horse competitions across the country. There are still many of Roy's students from over the years; whether it be from school or with horses, that stop family members to talk about his influence in their lives and the example he has set for others.