Princess Royalty
Princess - Katie Labrum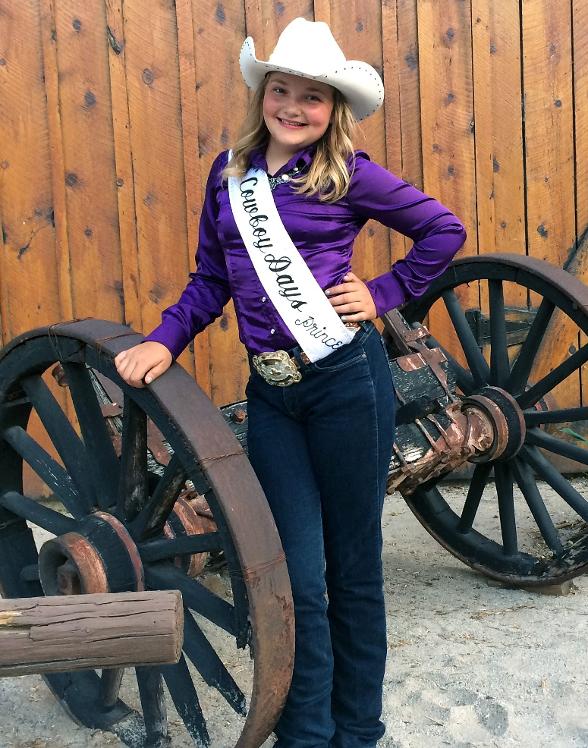 Katie Labrum is the 13 year old daughter of Ryan and Crystal Labrum of Bear River, Wyoming. She is sponsored by Wal-Mart of Evanston. Katie is starting the 8th Grade at Evanston Middle School and has maintained a 4.0 GPA the past two years. She has been raised around horses and rodeo since she was born. She has learned alot about rodeo from her older brother Justin. She grew up watching him ride steers, bulls, and saddle bronc. She has spent many years learning about rodeo and not only loves watching the contestants, but also the stock. Spending a lot of time at rodeos she loves watching the rodeo queens. Katie loves to pleasure ride and ranch work. She loves spending time helping her brother move cows, branding or just any other type of work that needs done. She helped her dad build a roping arena and is learning to break away rope. She is a member of Wranglers 4H club and Almy Outlaws 4H horse club. She also participates in Rocky Mountain Jackpot Series Livestock shows.
Katie loves anything to do with 4-H and animals. She shows pigs, goats, rabbits, dogs, chickens and horses. She competes at County, State & National shows and loves every minute of it. Katie also enjoys cake decorating, oil painting, and 4-H judging Contests. Her favorite subject in school is band and loves playing her flute. She is a member of the EMS Jazz band. Katie loves ice fishing and hunting, and spending time with her family. Her favorite quote is "I may not be the best, I may not always win, but I won't ever give up" by Amberley Snyder.
Katie's future goals include being Evanston Cowboy Days Queen. She also wants to attend College and be on a livestock judging and show team. She wants to go to veterinarian school to support her dream of becoming a stock contractor.
Katie would like to thank Evanston Cowboy Days committee for all the opportunities she has had this year. She has made lifelong friends and lasting memories with the Queen Falynn and 1st attendant Bailee. Lots of great memories with these girls this year and looking forward to many more. Katie loves promoting the sport of rodeo and meeting new people. She hopes you enjoy "The Biggest Little Rodeo in the West."