2022 Evanston Cowboy Days Royalty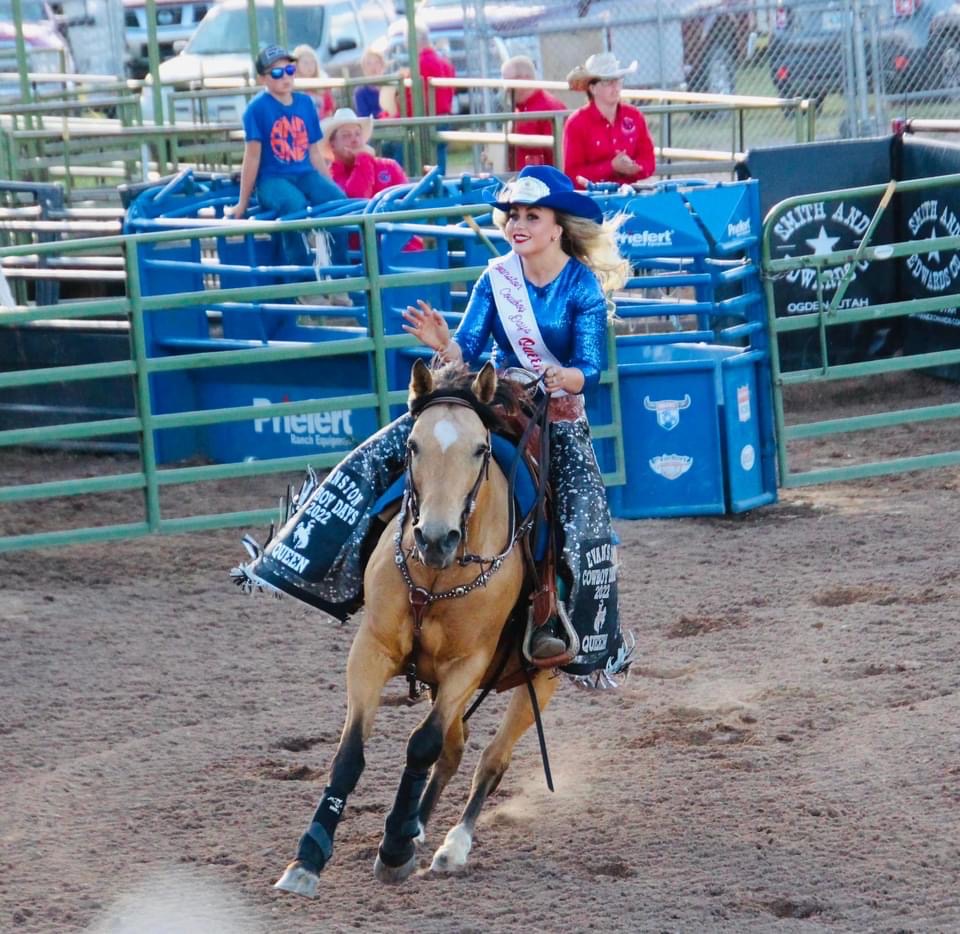 2022 Evanston Cowboy Days Queen
Jenessa Sullivan
Born and raised in Lehi Utah, Jenessa loves the outdoors. When not in dirt filled arenas you can find her on the dance floor western swing dancing or in the mountains horseback searching for an adventure. Jenessa got her start riding Arabian horses in endurance races. She participated in the 4-H program for ten years where she qualified for the State 4-H horse Show four years consecutively. Jenessa was a member of the Utah High School Rodeo Association. Her events included Barrel Racing, Pole Bending, Goat Tying and Reined Cow Horse. Jenessa was very involved in FFA where she served as her chapters Secretary and Vice President. Jenessa graduated from Skyridge High School in May of 2019 and is furthering her education at Weber State University pursuing a Bachelor's Degree in Marketing and Communications. Jenessa has had the opportunity to represent multiple rodeos and hold many titles such as; Eagle Mountain's Pony Express Rodeo, Miss Utah State Fair Rodeo Queen, Spanish Fork's Fiesta Days, Pleasant Grove's Strawberry Days, Miss Hooper Tomato Days Queen, The PRCA Wilderness Circuit Royalty and The Lehi Round Up Rodeo. Jenessa is honored to represent Evanston's Cowboy Days as the 2022 Queen and wants to thank the Cowboy Days committee for taking her in as their own and making it an enjoyable and memorable experience and one of the best Rodeo's she has ever represented!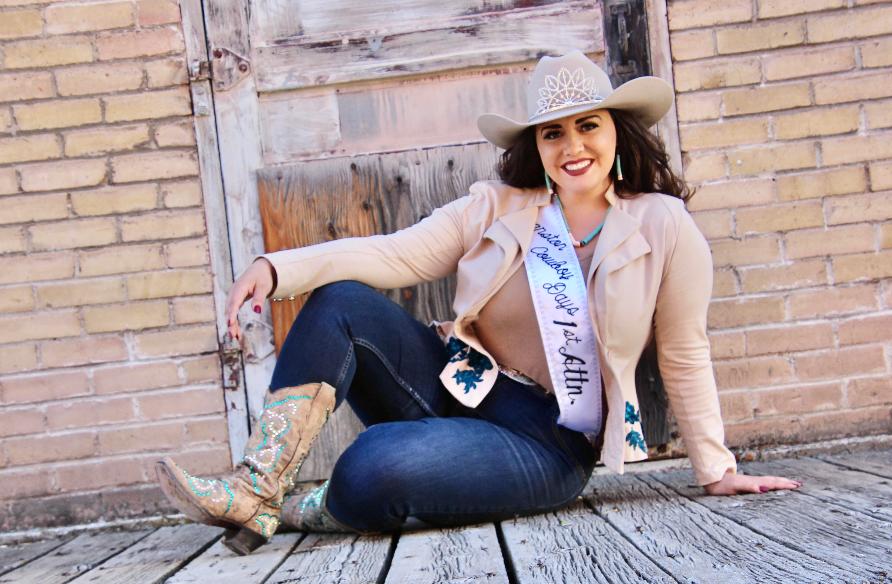 2022 Evanston Cowboy Days 1st Attendant
Shyanne Spencer
My name is Shyanne Spencer. I am the daughter of Michelle Spencer. I was born in Roosevelt Utah, and have traveled all over the Rocky Mountains. I graduated early from North Summit High School, in Coalville Utah, after which I started my college degree at Utah State University. I am finishing my Human Biology Bachelor's Degree. Once I graduate from Utah State University I plan on obtaining my Physician's Assistant License, and then going to work with Justine Sports Medicine Team as a volunteer. I have grown up with horses my entire life, starting when I was two years old I started riding my mom's little mare, Misty. At the age of eight I started 4-H, and that summer I competed in my first Rodeo Queen Pageant, where I won Miss Congeniality, after that I was in love with Rodeo Queening. I have been blessed with the titles I have won, where I have worked hard to be the representative the rodeos needed. I have held titles from Neola, Altamont, Duchesne, Strawberry Days, and Southern Utah University. I am always looking for ways to increase my knowledge and continually seeking new opportunities that allow me to serve my community. This past year has been full of growth and knowledge, from competing at Miss Rodeo Utah to continuing my college degree at Utah State University. I have been fortunious with a wonderful mother and grandparents that have supported me through the years. I wish to thank all of the people who have helped me to grow into the young woman I am today. Thank you for all of the support through this year and years to come.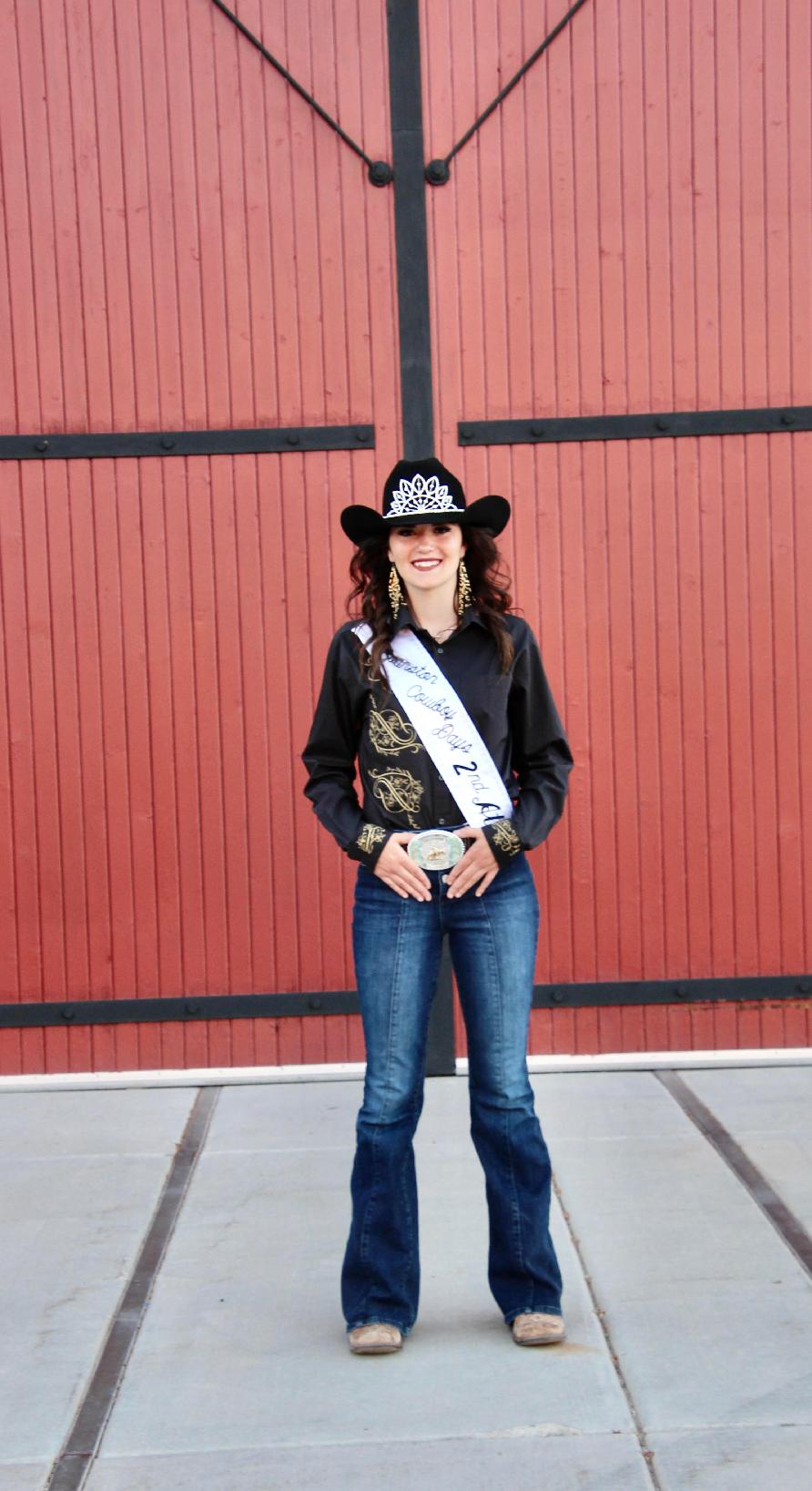 2022 Evanston Cowboy Days
2nd Attendant Sierra Sinnett
My name is Sierra Sinnett. I am the daughter of Robin and Josh Sinnett. I was born in Evanston, Wyoming where I have lived in Lyman, Wyoming my whole life. I am currently a senior at Lyman High school where I plan to graduate in 2023 and continue on to college after I graduate. I have grown up in the horse world my entire life. I've been on the back of a horse riding since I can remember if it was out on the ranch or competing in rodeos. I've always been more of the ranch and rodeo girl until last year when I tried out for my first queening competition. Although I haven't been queening for a long time, I have fallen in love with it. The two titles I have held have been a blessing and showed me more to the horse industry along with meeting new people and learning from them as well. I am beyond excited to keep growing and falling more in love with the sport we are all a part of. All the growth I have had in this year is unbelievable and has shown me many new things in this amazing society. Although, being a rodeo queen has done this for me I wouldn't have been able to do it without my friends and family standing behind me and pushing me to be greater. They have truly helped me in growing to being the strong young woman I am today. Thank you