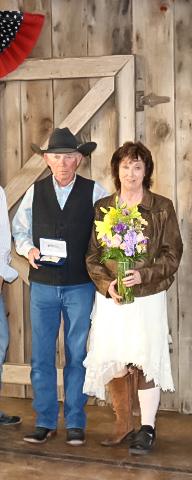 Allen Rees grew up on a ranch in Urie. He loved being a cowboy and roping anything that moved.
Soon after graduating from high school he joined the United States Air Force. He served his country honorary for four years. Spending a lot of time on remote sites in Alaska.
Allen is a fan of Rodeo. He was instrumental in organizing the Fort Bridger American Legion 4th of July rodeo for eleven years. The Fort Bridger 4th of July Rodeo is apart of Uinta County history. Allen has a world of respect for the many early cowboys of this area who would get together for this tradition.
Allen was the American Legion Post 36 commander for four years. One of his many duties was to organize a color guard for Fort Bridger July 4th celebration and Lyman's Pioneer celebration. He is very proud to carry the flag down the street and see our communities show patriotism.
Allen in his younger years rode bareback horses and roped. Winning many trophies and buckles. He supported his kids through Jr rodeos, high school rodeo and college rodeos. He is now taking a grandson around the state of Wyoming for high school rodeo.
Allen is married to Ruth Martin Rees. They work on a ranch outside of Fort Bridger, and have four children and ten grandchildren.
Allen is greatly appreciative of the grand Marshall honor bestowed upon him by the Cowboy Days Committee. He is also thankful to live in a wonderful community and the friendships he shares.