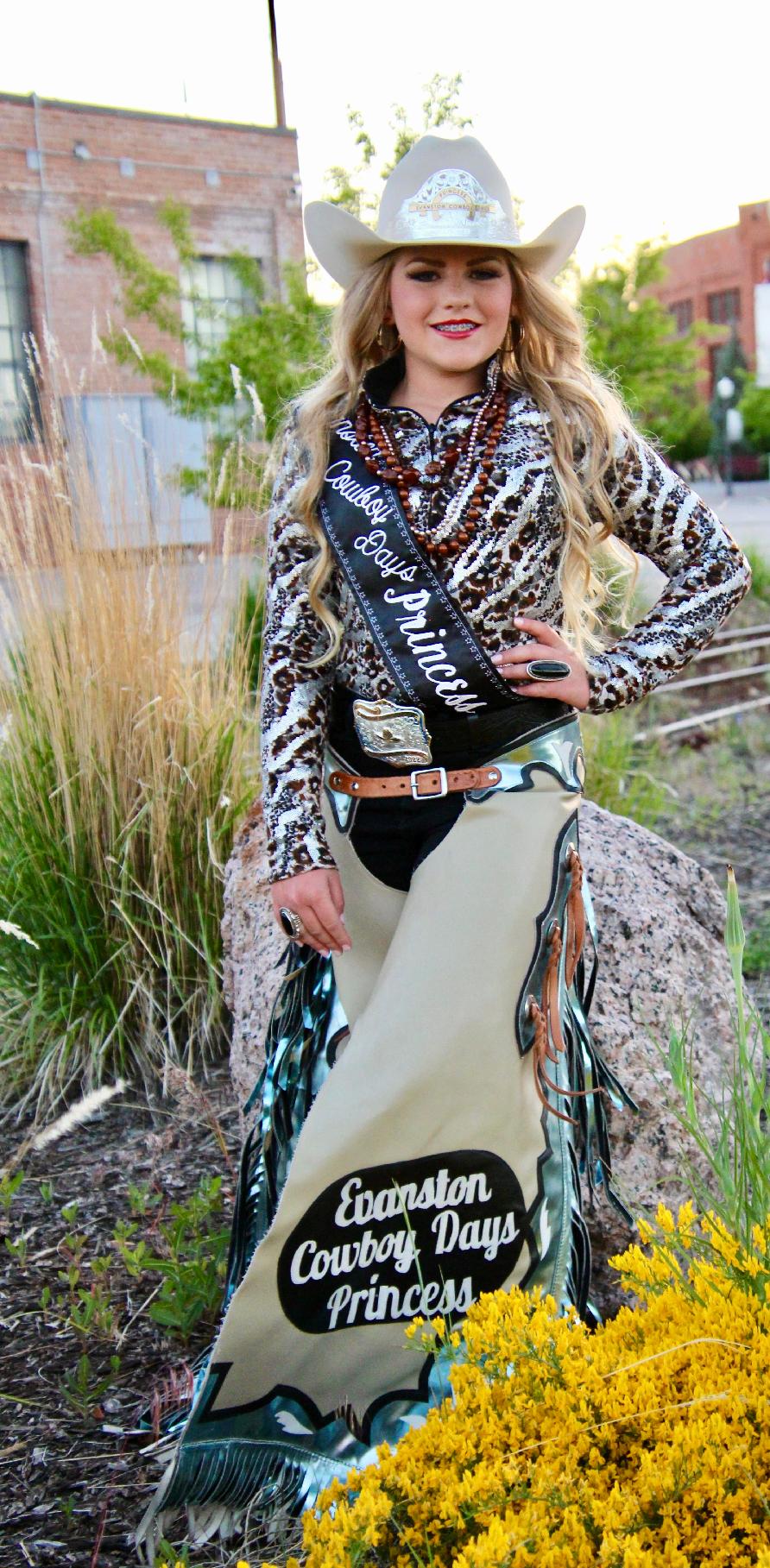 2022 Evanston Cowboy Days Princess
Quincee Call
Quincee Renae Call is the daughter of Nick and Brooke Call. She is 12 years old. Quincee proudly hails from Randolph, Utah. This fall she will be attending 7th grade. Outside of rodeo, Quincee loves playing sports, especially volleyball. Ranching and rodeo have been part of her family's traditions and lifestyle for 5 generations. Having developed a love for horses at an early age, Queening is a way for Quincee to combine her western heritage with her hobbies. Quincee is proud to represent Evanston Cowboy Days as the 2022 Princess. "I'm so excited to get to work with the Cowboy Days Royalty, committee, contestants, and fans as we rodeo together this year." To you all...safe travels, good luck, and God Bless!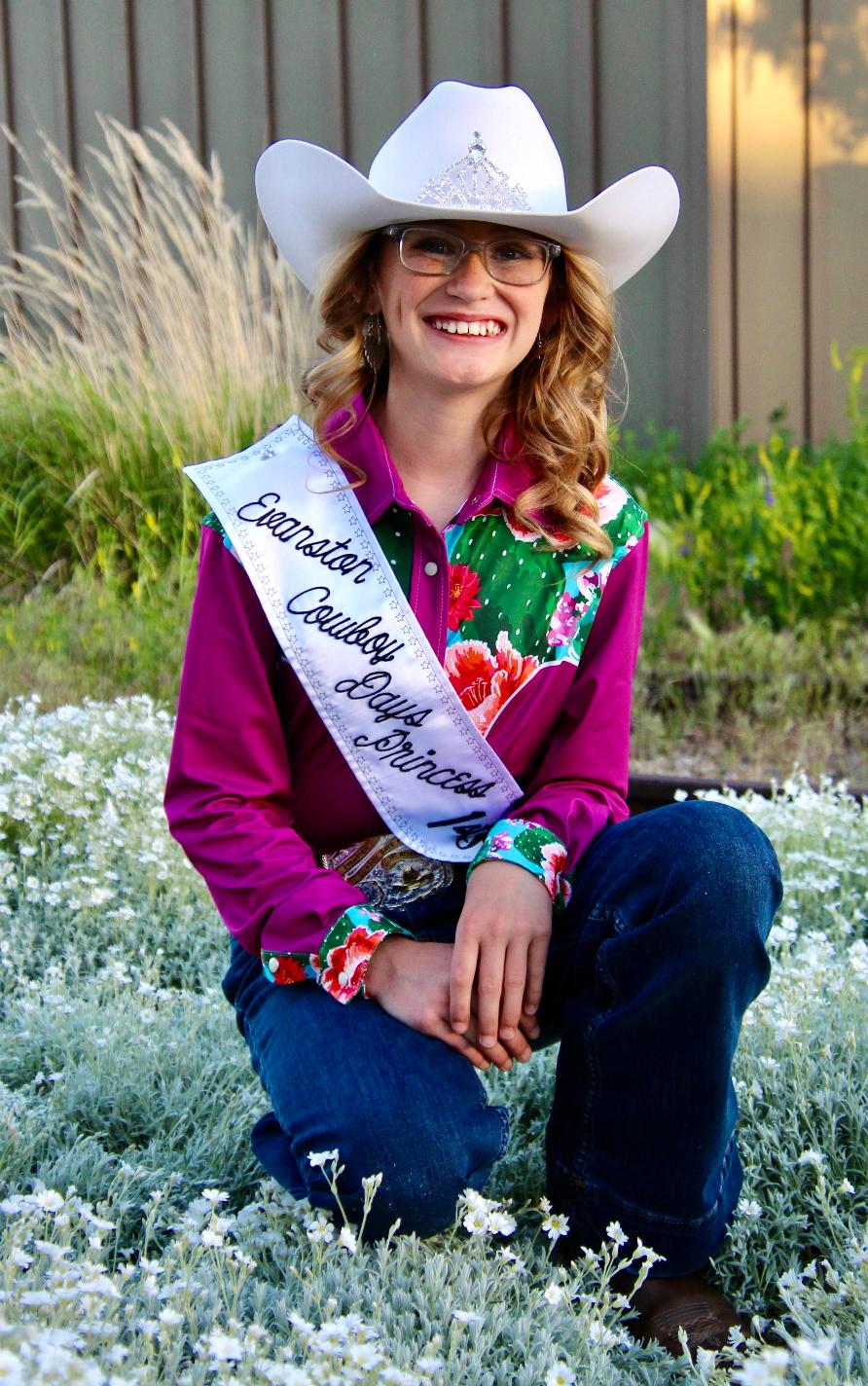 2022 Evanston Cowboy Days Princess 1st Attendant
Brooklynn Long
Hello, my name is Brooklynn Long. I am the daughter of Jake and Bobbie of Etna, WY. I have an older brother named Chet. I love being creative. I use my art talent to create unique cards for any occasion. I enjoy creating masterpieces with my pencils. Horses are one of my favorite things to draw. I have been riding horses since I could walk. I started with the cutest little pony named Lily. When my mom brought her home our dog, Rugar, thought she was his new playmate. She was so little. Her and I learned how to walk and trot and competed in many lead line classes. I then moved on to Rascal. Rascal was an amazing teacher. We learned how to rein together and started competing in our first reining shows when I was 6 years old. She also has packed me on many pack trips into the mountains with my Grandpa. I have since moved onto many other horses and now compete and train with my best friend Fiona. We have competed in reining, fairs, ranch versatility and quarter horse shows. I love being on a horse and I learn so much every time I ride. My mom is such a great trainer and has helped me come so far. This year I get to learn how to train my own horse and compete in a futurity to test my skills. I'm very excited for the opportunity and can't wait to see what challenges and learning experiences come. Fair is one of my favorite times of the year. I love camping at the fairgrounds and showing my horses and dog, Ruby. It's a long week but I look forward to it. My favorite event is freestyle reining. It's so fun to show off Fiona and I's skills and dance to music. When I am not horsing around I enjoy playing volleyball, exploring the mountains and playing with my cousins.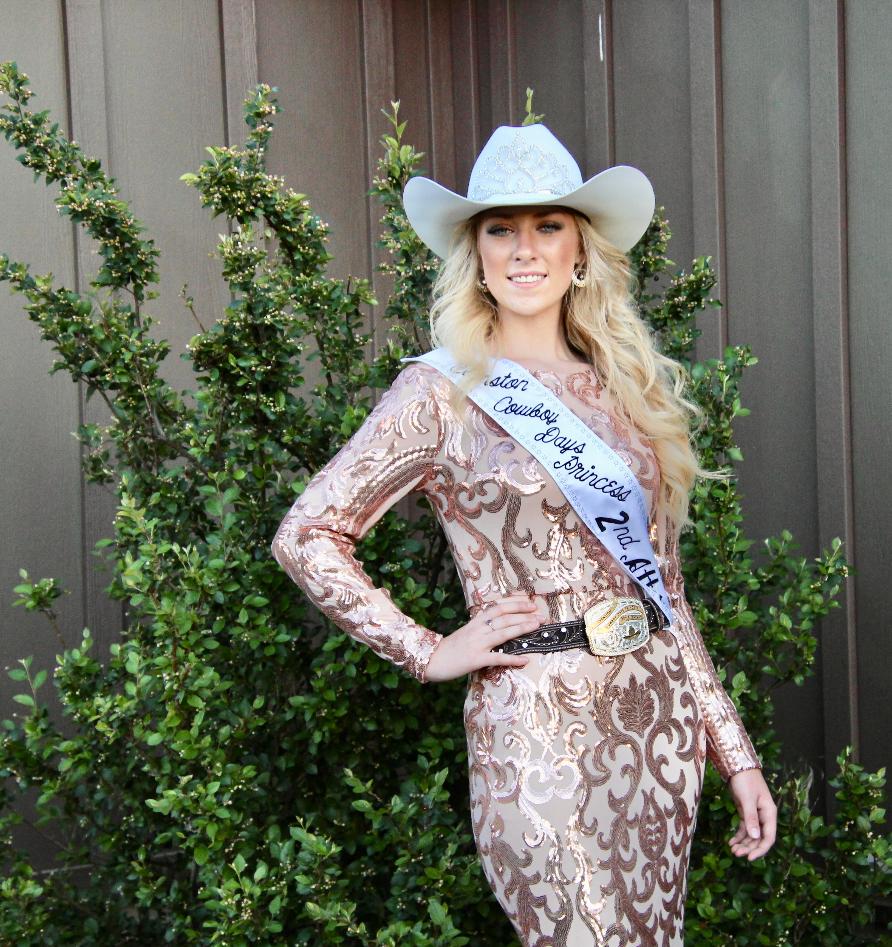 2022 Evanston Cowboy Days Princess 2nd Attendant
Makinsy Huntington
Makinsy Huntington is the 16 year old daughter of Jared Huntington and Randi Russell. She enjoys riding horses with her family and working cows with her biggest supporter, her Grandpa Jerry. She loves snow machines in the winter and rodeoing in the summer. She has many hobbies including rodeo where she competes in barrels and poles. Makinsy is a junior at Mountain View high school in her hometown, she enjoys 4-H and FFA and loves showing younger kids the true meaning behind the hard work and determination. Makinsy would like to thank Evanston Cowboy Days for the amazing opportunities that Evanston Cowboy Days has to offer. Most of all she would like to thank all of you for the support that y'all have shown to this amazing rodeo. She can't wait to see y'all and show everyone what the true meaning of rodeo is about.