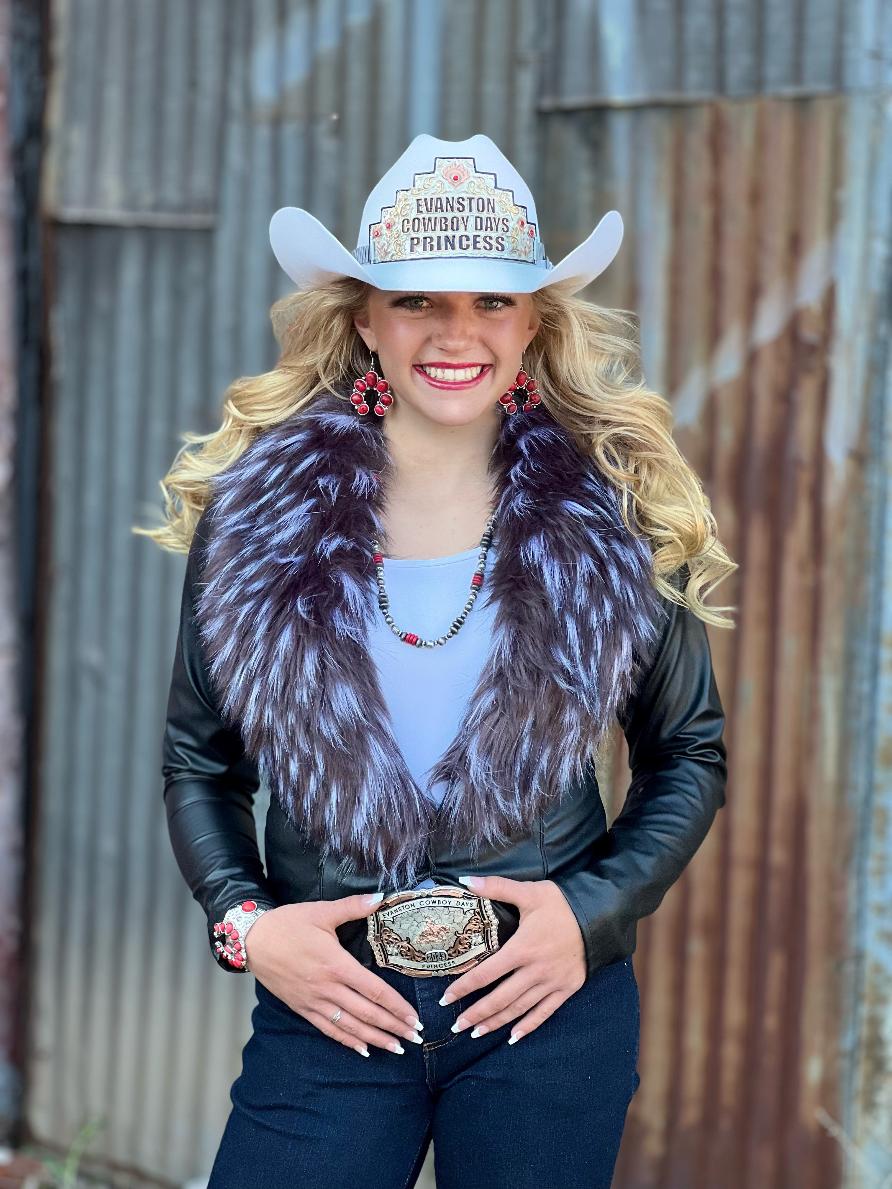 2023 Evanston Cowboy Days Princess- Cheznee Mackey
Cheznee is the 15-year-old daughter of Payton and Marlene Mackey of Evanston. Being raised on her family ranch and having deep roots in the western lifestyle, horses have been a big part of Cheznee's life ever since she could fit into her first pair of britches. She has always had a strong connection with animals and horses which seem to understand her. When she is around her four horses the world around slows down and Cheznee enjoys the friendship of these amazing creatures.
Cheznee started riding and showing horses as soon as she could take the lead rope and reins from her mom. She was called "miss independent" wanting to do everything by herself. Competing in Junior High and High school rodeo has taught her perseverance as sometimes it's not the win they celebrate but the milestone of what they accomplish with each run they make. Five years ago, she wanted to add reining to her list of expertise and her first year of training and showing with Mack Weaver Performance Horses, Cheznee and her horse Tank persevered and won the Sun circuit Championship Jacket in Hurricane Utah as well as the end of year Greener than Grass Overall Championship in Heber. Cheznee has been part of the Evanston Cowboy Days Labor Day celebration carrying rodeo flags for the past three years as well as being a junior member volunteer. Riding and showing at the Uinta County Fair and Wyoming State fair being able to compete with others is one thing she looks forward to all year long. She is an eight-year Senior division 4-h member enthusiast and a two year 4-H Junior leader who enjoys mentoring others. Cheznee loves competing and playing basketball, volleyball, track, and gymnastics. Her favorite hobbies include painting and
drawing as she finds them really relaxing and they show another side of her talents that many people don't get to see. She loves the warmth and the great outdoors, hiking and exploring the world around her. Cheznee is employed by the trainers at the Wyoming Downs racetrack, and she loves being around racehorses as that lifestyle has instilled "the need for speed", which is another reason she loves the sport of rodeo. Cheznee is a member of the National Gymnastics Association qualifying for State, Regionals, and Nationals. She won the 2023 State Champion and 2 nd Place winner on Floor at the Regional Wyoming and Utah meet. She received the creed award and green hand award for FFA this year. Her future goals include continuing being a leader and mentor for others, representing her hometown PRCA rodeo of Evanston Cowboy Days, running at the Junior NFR and later qualifying to run at the Thomas and Mack center at the National Finals Rodeo. Cheznee has a desire to go to college and graduating with a degree in Physical therapy as helping others and preventing injury would be a dream come true. Being an ambassador of rodeo and a cowgirl for the young girls to look up to is what being a princess means to Cheznee. The opportunity of being the Evanston Cowboy Days Princess has allowed her to make little girls dreams come true with just a smile and a wave along with teaching the community about the western way of life, our heritage and helping others see that queens are more than just a pretty face. Cheznee definition of being a Princess is being the face of rodeo, representing "true grit" and hard work, integrity, sharing the history of our ancestors and most of all the legends of the "American Cowboy". Thank you to the Committee and all mysupporters for making this such a fun and memorable year.
2023 Evanston Cowboy Days Princess 1st Attendant- Monroe Barton
Monroe was born and raised in Weber County, Utah. She will be attending 7th grade in the fall. Her favorite subjects are math and writing. Monroe is a friend to all animals. She plans on becoming a veterinarian so she can aid in the development of animal prosthetics. Her favorite hobbies are leather working, fishing, skiing and training her dogs and horses. Whether it be competing in barrel races or rodeo queen competitions, Monroe is an enthusiastic competitor, teacher, and student. She believes that time well spent is teaching and learning along with her horses. Monroe is excited about representing Evanston Cowboy Days because she gets to share her love of horses and rodeo with others. She can't wait to show everyone what her favorite sport is all about!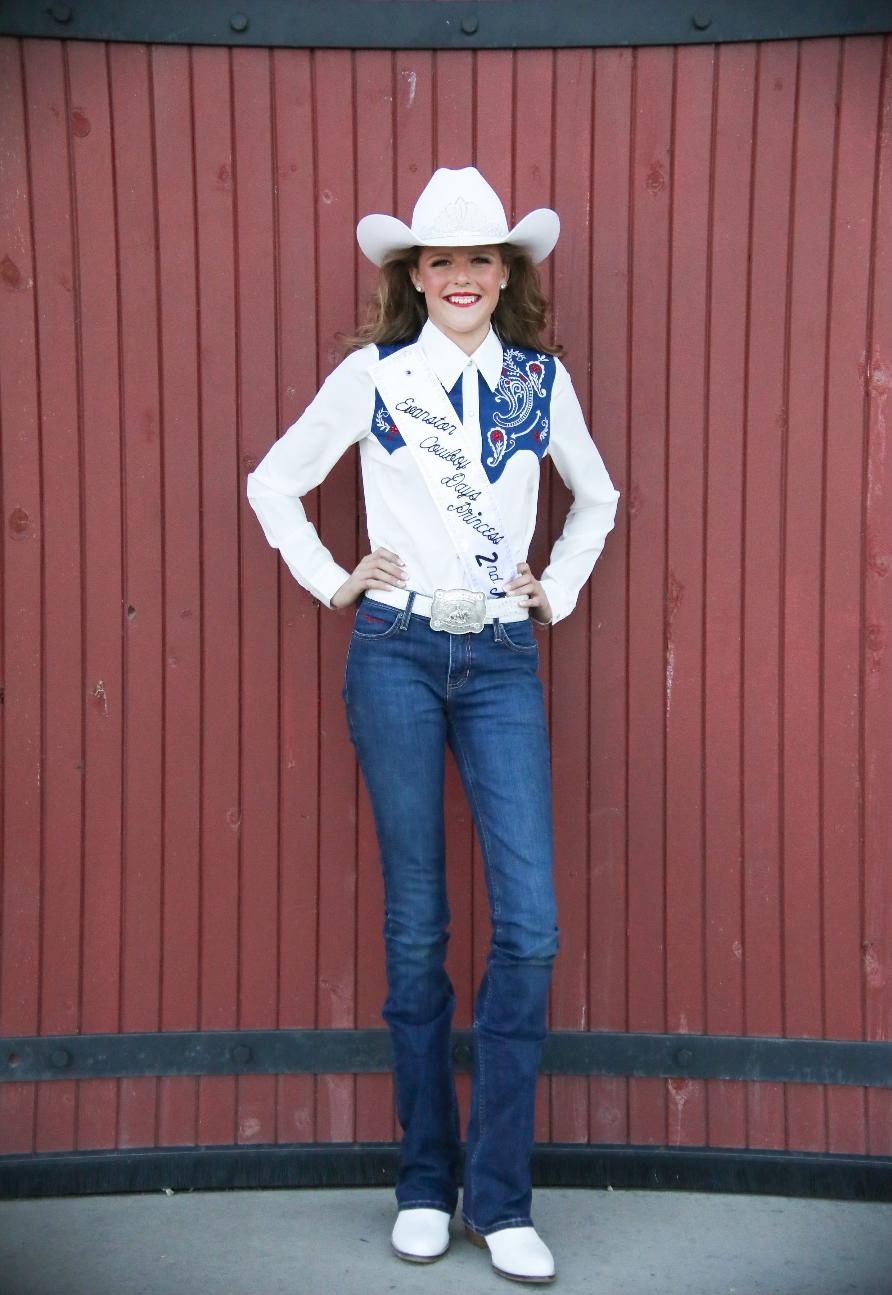 2023 Evanston Cowboy Days Princess 2nd Attendant- Genevieve Graham
Genevieve Graham, "G" for short is the daughter of Joe and Mckenzie Graham. G is a 13 year old, 5 foot 11 inch farm girl from Heber, Utah. Unlike a lot of girls in this community, G does not come from a long line of horsemen, she is the first in her family. G found her passion for horses when she was five years old. She began in english hunter/jumper and made her way into western two years ago. G has admired the rodeo queens from afar for years and finally decided it was her turn. She is so excited to be a part of the Cowboy Days royalty. G also holds the first attendant title of Little Miss Buckaroo, Summit County. When G isn't riding her horses and wearing a crown she plays midfielder for the Wasatch Wasps Lacrosse team in the spring and point guard for the Wasatch basketball team in the winter, all the other seasons, in her opinion, are horse seasons.
G also loves to play at the river with her brother, make believe horse rides with her baby sisters, jump on the tramp, raise her chickens, snuggle the cats, climb trees, read the classics (She loves Anne of Green Gables), make bonfires in the backyard, go barefoot as much as she can and rope the cow head named Bessie.
Genevieve is very honored and excited to represent Evanston Cowboy Days. She looks forward to meeting members of the community and being a part of preserving the western way of life.