Jr. Princess - Katie Labrum
Katie Labrum is the 2016 Evanston Cowboy Days Junior Princess. She is the 12 year old daughter of Ryan and Crystal Labrum of Bear River, Wyoming. She is sponsored by Wal-Mart of Evanston. Katie will be in the 7th grade at Evanston Middle School where she maintained a 4.0 GPA last year. She has been raised around horses and rodeo since she was born. She has an older brother Justin, who graduated last year. She says that he has taught her a lot about rodeo. She grew up watching him ride steers, bulls, and saddle bronc. She has spent many years learning about rodeo and not only loves watching the contestants, but also the stock. Spending a lot of time at rodeos she loved watching the rodeo queens. Katie loves to pleasure ride and ranch work. She loves spending time helping her brother on his ranch moving cows, branding or just any other type of work that needs done. She is a member of Bear River Riders and Almy Outlaws 4H horse club.
Katie loves anything to do with 4-H and animals. She shows pigs, goats, rabbits, dogs, chickens and horses. She competes at County and State Level shows and loves every minute of it. This past year she also attended two national shows. She was the first 4-H Member from Wyoming to compete in the 4-H Creed Speaking contest at Arizona National Livestock Show. Katie also enjoys cake decorating, oil painting, and 4-H judging Contests. Her favorite subject in school is band and loves playing her flute. She is one of the two flute players to make the jazz band this year. Katie also loves ice fishing and hunting, and spending time with her family. Her favorite quote is "The only way to have a friend is to be one".
Katie's future goals include being Evanston Cowboy Days Queen. She also wants to attend College and be on a livestock judging and show team. She wants to go to veterinarian school to support her dream of becoming a stock contractor.
Katie has enjoyed being part of the Evanston Cowboy Days Royalty. She loves promoting the sport of rodeo and meeting new people. She would like to thank Evanston Cowboy Days Committee for giving her this great opportunity for both her and her horse to learn and grow. She hopes you enjoy "The Biggest Little Rodeo in the West".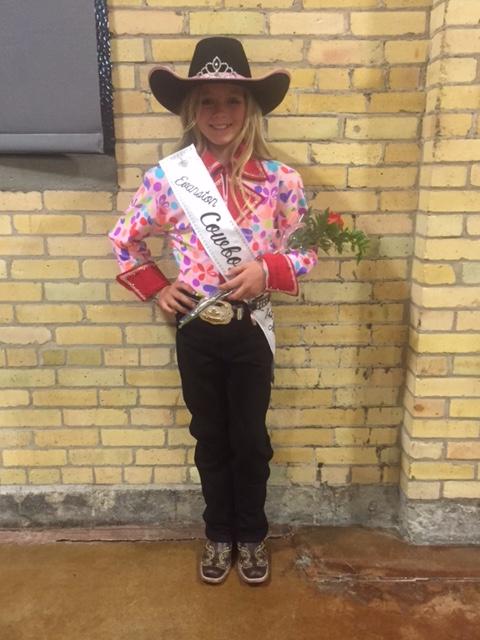 1st Attendant - Korbyn Tonge
1st Attendant Junior Princess is Korbyn Tongy the 10 year old daughter of Derek Tonge and Kandra Noble. She is sponsored by her parents. She goes to Aspen Elementary and has been riding for three years, thanks to her stepmom. Korbyn enjoys dance, volleyball, gymnastics, swimming, hunting, fishing, branding and playing with her brothers and sisters. Her goal is to make the NFR on her new colt Bam Bam. Korbyn has enjoyed being in the royalty and likes the traveling and meeting new people.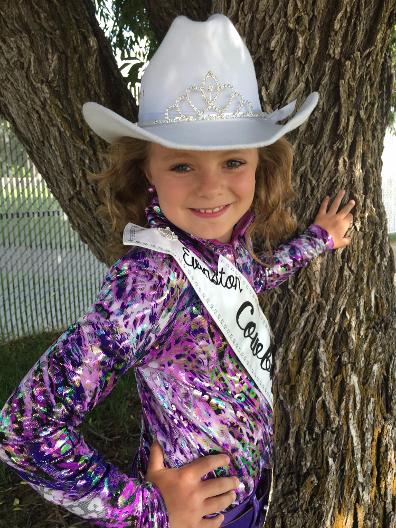 2nd Attendant - Lexie Snyder
Lexie Snyder, Cowboy Days Jr. Princess 2nd Attendant, is the 8 year old daughter of Corey and Whitney Snyder of Lyman Wyoming. She will be in 3rd grade this coming school year. Lexie likes hunting, fishing, camping and spending time with her family. She is in the Crazy Horse 4-H club, and enjoys anything and everything to do with animals. She loves riding her horse and being a part of Evanston Cowboy Days Royalty. She would like to thank her sponsor and grandparents Stacey and Melissa Maxfield of Fort Bridger, WY and her parents and family for all of their support.